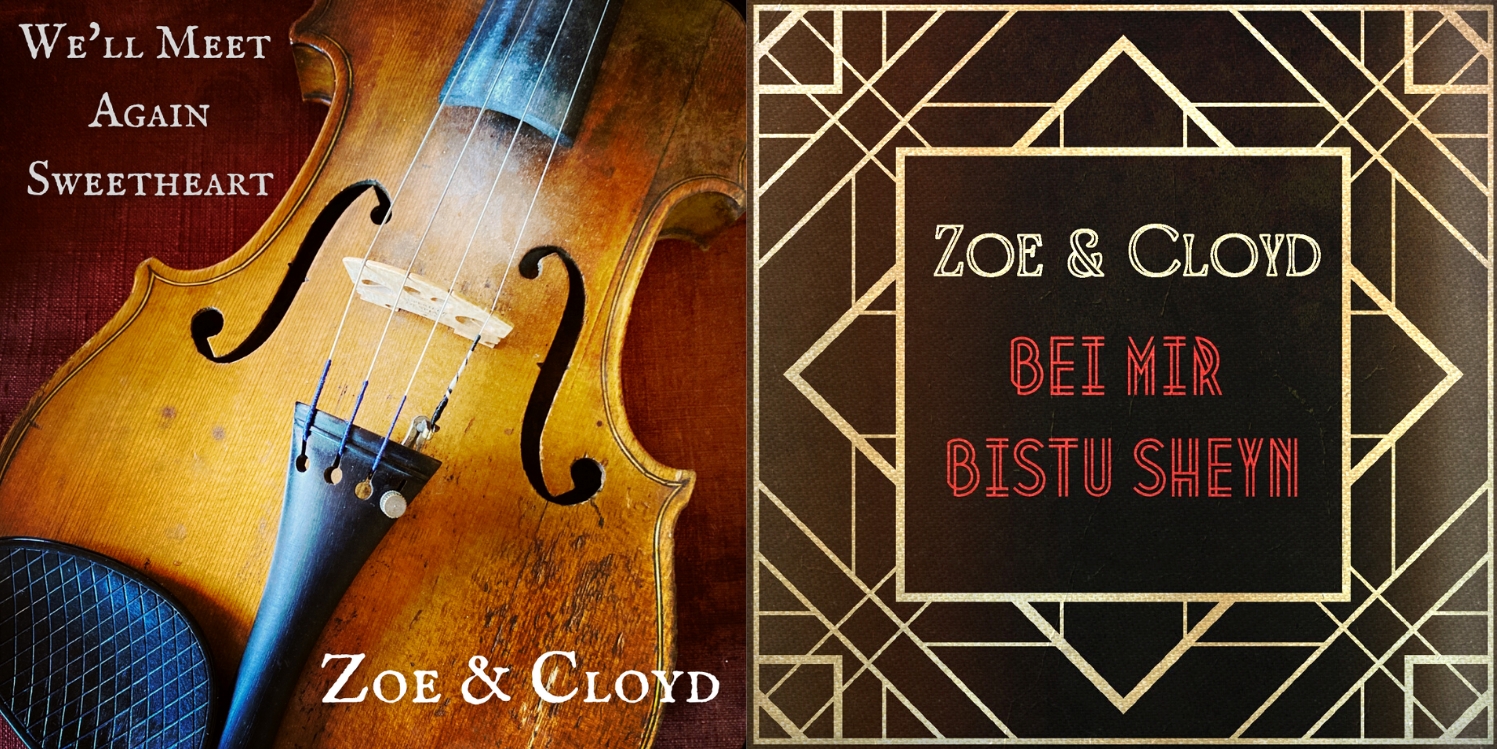 Today is double single release day!!
We are so excited to share these two new songs with you. ~Z&C
Our record label, Organic Records, wrote a wonderful press release which we wanted to share:
(February 17, 2023) — Right on the heels of Valentine's Day, klezgrass practitioners Zoe & Cloyd release two new Organic Records singles — and with that kind of timing, what could be more appropriate than a pair of love songs that showcase the complementary musical legacies embodied in the title of their forthcoming full-length album, Songs Of Our Grandfathers.
From the rich bluegrass heritage of John Cloyd Miller's grandfather comes "We'll Meet Again Sweetheart." Says Miller, "This classic bluegrass number was one of four sides my grandfather Jim Shumate recorded with Flatt & Scruggs for the Mercury label in 1948. That early lineup of the Foggy Mountain Boys — featuring Jim, Mac Wiseman, Cedric Rainwater and, of course, Lester Flatt and Earl Scruggs — was a force of nature and set the standard for bluegrass moving forward. We were excited to revisit the energy and tastefulness of that iconic recording."
With Miller's smooth lead vocal, bassist Kevin Kehrberg's echoes of Rainwater's active bass work, ace banjo man Bennett Sullivan's recap of some of Scruggs' signature licks alongside a few twists of his own and Natalya Zoe Weinstein's loving recreation — on the same fiddle used in 1948 — of Shumate's original work, it's a track that will bring a smile to those who know every note of the vintage recording even as it reflects Zoe & Cloyd's unique creative touches.
"'Bei Mir Bistu Sheyn' was originally written in 1932 by composer Sholom Secunda and lyricist Jacob Jacobs for the Yiddish theater. The title means 'To Me You Are Beautiful.' The Andrews Sisters recorded the English version in 1937, and the song became a worldwide sensation. Not surprisingly, this song was in my grandfather's repertoire as well, and I used to play it with my father on piano. For our recording, I even learned the Yiddish lyrics!"
Paired with the Flatt & Scruggs favorite is an even more widely known song with long-obscured roots in the once lively world of New York's Yiddish language theater: "Bei Mir Bistu Sheyn." The spelling reflects the duo's reversion to the song's original Yiddish, as explained by Natalya, whose winsome vocal is framed by well-crafted solos from Miller (here on mandolin), Sullivan (guitar) and Kehrberg that reveal the influence of klezmer music on the more widely known "gypsy jazz" of subsequent versions.
Enjoy!!